The department of Dermatology, Venereology and Leprosy was established in the year 1992. It is located on the first floor of Bharati Hospital. Here we provide Out-Patient as well as In-Patient treatment to patients with various dermatological conditions, leprosy and sexually transmitted infections (STIs)
Department of Dermatology, Venereology and Leprosy
A total of seven speciality clinics function efficiently to provide the best treatment and care to the patients.
A variety of diagnostic as well as therapeutic interventions are carried out. Various dermato-surgical and cosmetological procedures are done as well.
This department provides training to four Post Graduate students each year. Along with this, academic sessions for the Undergraduate students are also conducted.
A holistic approach is followed for the management of all the patients.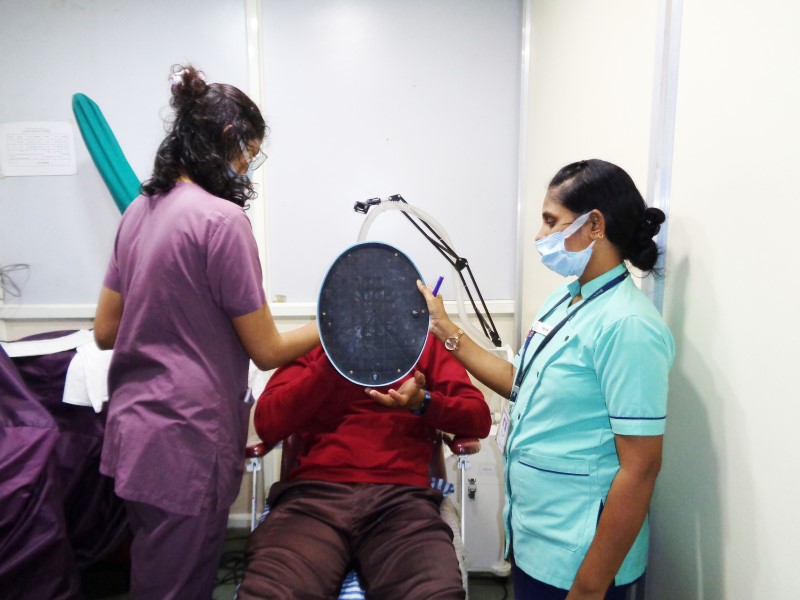 OPD room
Waiting area
Reception/ Help desk
Doctor's room
Department library
Faculty offices
Minor Procedure room
Major Procedure room
LASER room
Radiofrequency machine
Electrocautery machine
Lasers (fractional CO2, Diode, Q switch Nd YAG ,  IPL)
Phototherapy  chamber (UVA and UVB)
Microscopes
Centrifuge machine
Wood's Lamp
Cryotherapy machine –Cryogun
Dermabrader – motorised
Iontophoresis Unit
Surgical instruments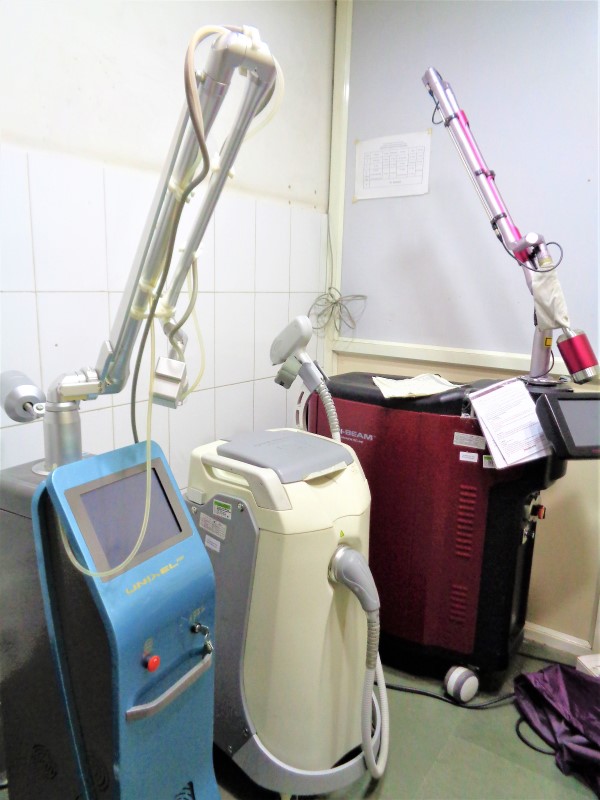 Patient services and facilities
Surgical and therapeutic procedures
Dermabrasion
Punch grafting for viiligo
Suction blister grafting for vitiligo
Scar revision
Sebaceous cyst removal surgery
Comedone extraction
Chemical Cauterization
Chemical Peeling
Comedone Extraction
Cryotherapy
Derma Roller
Ear Lobe Repair
Subscission With PRP
Electro Cauterization
Intralesional Therapy
Microdermabrasion
Mole Surgery
Molluscum Extraction
Nail Surgery
Radiofrequency Surgery
Skin Biopsy
Slit Skin Smear for Lepra bacilli
KOH mount for fungal elements
Woods Lamp examination
Tzanck smear
Autologous Serum Skin Test
Medical/ therapeutic Procedures
Dexamethasone Cyclophosphamide Pulse therapy for Pemphigus group of disorders
Biologics for Psoriasis , Pemphigus , Chronic Urticaria
Laser hair reduction

Tattoo removal

Pigmentary disorders

Scars- post burns, post acne, traumatic
Vitiligo Clinic 

Psoriasis Clinic

Autoimmune Disease Clinic

Vesiculobullous diseases

Hansen's Clinic

STD Clinic

Pigmentary Clinic
Dr. Sardesai Vidyadhar Rajaram
Head
Department of Dermatology
Faculties and their Achievements
Professor and Head of the Department of Dermatology in Bharati Vidyapeeth, with an experience of over 30 years as a clinician and a post graduate teacher, with multiple international and national publications, respected faculty and beloved speaker in various national and international conferences and forums.
The department has well trained and  highly qualified faculties dedicated towards proper patient management
Sr No

                          Name

        Designation

Promotions in present Institution

1.

Dr. Sardesai Vidyadhar Rajaram

Assistant Professor

Associate Professor

Professor & Head

13-01-1992

01-12-1997

01-08-2003

2.

Dr. Lunge Snehal Vaibhav

Associate Professor

18-01-2021

3.

Dr.Kelkar Amit Shrikant

Assistant Professor

Associate Professor

10-04-2004

03-10-2013

4.

Dr. Adhe Vijay Sudhakarrao

Senior Resident

Assistant Professor

18-03-2013

01-12-2014

5.

Dr. Dhamale Suyog Shashikant

Senior Resident

Assistant Professor

07-09-2016

02-04-2018

6.

Dr. Hegde Shibhani S. 

Senior Resident

Assistant Professor

02-04-2018

02-04-2019

7.

Dr. Amit Jain

Senior Resident

02-08-2021

8.

Dr. Chandwani Bhavna Hareshkumar

Senior resident 

02-08-2021

9.

Dr. Suvidha Gandra

Senior resident 

16-08-2021
Upcoming facilities for patients
The departmental infrastructure will soon be augmented to  enhance patient care and management.
For Enquiries or any information