ICU – Department of Critical Care
The Department of Critical Care Medicine was created in Jan 2014 to streamline the working of the ICUs at Bharati hospital & Research Centre and create an academic environment for research and education.
Critical Care Medicine Department
The department is well equipped and provides services for around 4500 critically ill patients every year. The medical emergency and code blue team from the department of critical care medicine provides outreach services for critically ill patients in other parts of the hospital.  We also monitor several quality indicators and conduct audits to provide quality health care for ICU patients.
A number of training programs are also conducted on an ongoing basis for undergraduates, postgraduates and nurses. The department has been granted permission for conducting DM Critical care by MOH & FW, Vide reference- U-12012/14/2016-ME-1 
During the COVID-19 pandemic, the department of critical care medicine has treated over 2000 critically ill patients. We have also provided training for acute care in Covid-19 to more than 500 healthcare professionals all over the state of Maharashtra.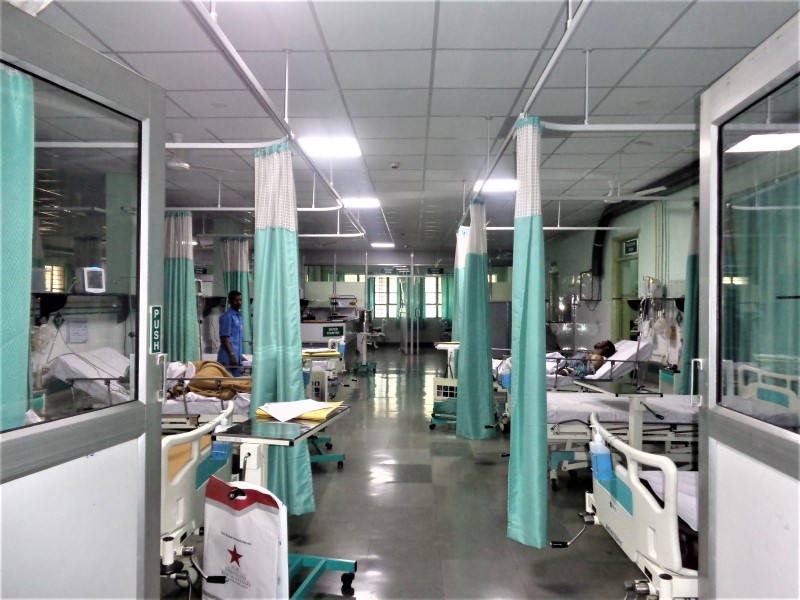 Tertiary level Adult Intensive Care Unit with approximately 5000 admissions per year.
Round the clock coverage with trained Intensive care specialists.
60 bedded units equipped with multiparameter monitors, Central Oxygen, air, suction/ Dual UPS and Generator backup.
50 ventilated beds (Vela Comprehensive, Avea, Bella Vista, NOCARCC), 20 HFNC's.
6 Dedicated NIV ventilators, 4 Transport Ventilators.
7 Isolation room.
Advanced Ventilator facilities like High Frequency Oscillator, AVEA- Trans pulmonary pressure monitoring, GE Carescape with metabolic cart.
Advanced monitoring facilities such as Invasive hemodynamic monitoring, cardiac output, Capnography, BIS, Bedside EEG.
ECMO (Maquet) facility.
6 Defibrillators
90 Syringe pumps
4 Transvenous pacemakers

Intra-aortic balloon pump (stationed in cath lab)

Difficult airway carts

Dedicated Bedside X-ray (SHIMADZU) and Echocardiography/ US (Sonosite) with Point of care X-Ray system (REGUS 190) stationed in ICUs

Dedicated Ultrasound Machine (HD 5)

Dedicated Bronchoscope (Olympus)

Point of care lab- ABG, Lactates and Electrolytes

ICU Dialysis facility (4 Dialysis Machines- ART Plus and Ultra touch 1000) with dedicated RO unit

In house resuscitation services- CODE BLUE for the hospital/ MEWS team

Stroke / MI/ Sepsis/ Trauma Codes

24 hour available Speciality backup, Laboratory and radiological facilities- CT/MR.

Advanced Simulation Skills lab with Sim Man 3G and other basic manikins
For Enquiries or any information