Laboratory (NABL Accredited)
State of the art laboratory which is fully equipped with facilities required for Biochemistry, Pathology, and Microbiology investigations.
NABL Accredited Laboratory
Lab services are available round the clock.

Confidentiality of all reports and personnel information of patients is maintained. 

Filling of Consent form with pre and post test counseling is mandatory for HIV testing.

There are trained personnel available for interpretation of results and clinicians are available for advice based on the report.

State of the art instrumentation available.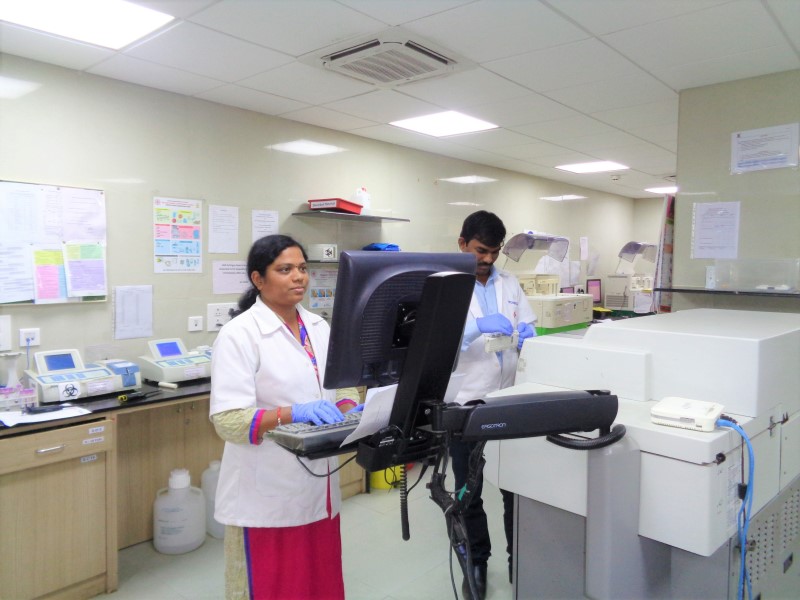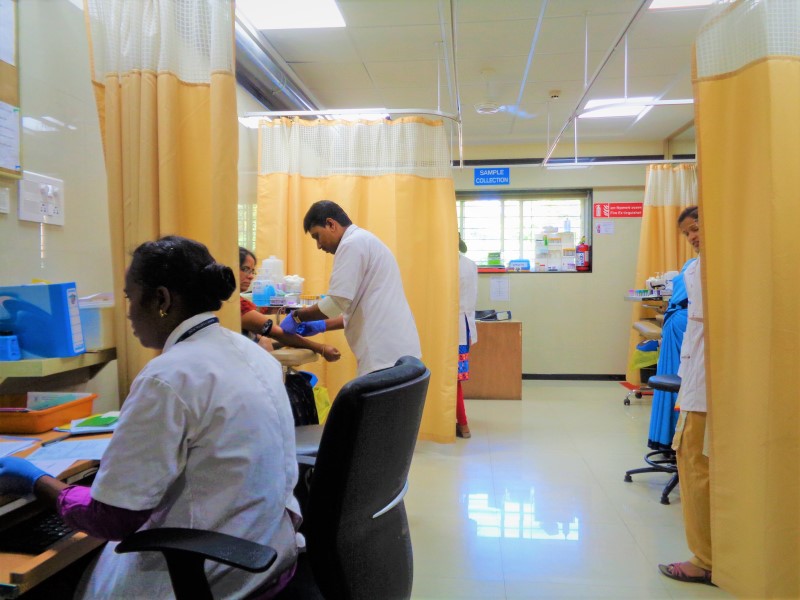 If a patient is not satisfied with the laboratory service or has some specific grievance, a complaint box is placed in the collection area where he / she can put the complaint along with name and phone number. Action taken on the complaint will be informed to the complainant within 48 to 72 hours.

A wide menu of tests is available.

Ensures that reports are ready within the stated turn around time.

High quality stands are adhered to during reporting.
AEC (Absolute Eosinophil Count)
ANC (Absolute Neutrophil Count)
APTT
PT

Blood group

Bone marrow

BM biopsy

ESR

Factor VIIIc Assay

Hemoglobin

Hemogram (CBC)/ PBS examination/Reticulocyte count

Haemoglobinopathy Analysis by Hb HPLC

RBC count

Total WBC Count

Platelet Count

Differential Leucocyte Count

Neutrophil %

Lymphocyte %

Monocyte %

Eosinophil %

Basophil %

Peripheral smear examination

Hematocrit

MCV

MCHC

RDW

Reticulocyte Count

Sickling Test

Rapid Malaria Test

HLA-B27

CD4, CD8

Coomb's test (Direct)

Coomb's test (Indirect) with titre/ without titre

DNA Extraction and Storage

FISH for t(9;22)

FISH for t(9;22)+(12;21)

HLA-B27 (Whole Blood) by FCM

Karyotype ( Bone marrow)

Karyotype (Blood)

Leukaemia Profile by FCM

RNA Preservation (BM/PB)

RT PCR for t(1;19) and t(4;11)

RT PCR for t(15;17), inv16, t(8;21)

RT PCR for t(4;11)

RT PCR for t(9;22) – Major and minor breakpoints

RT PCR t(9;22), t(12;21), t(1;19), t(4;11)

Haemoglobinopathy Report (By HPLC)

D – Dimer
Urine

Stool

Semen

Pleural Fluid

Ascitic / Peritoneal Fluid

CSF

Synovial Fluid

Urine – Hemoglobinuria and Myoglobinuria

Urine Bence Jones Proteins

Urinary Qualitative Porphobilinogen / Porphyrins

Stool – Occult Blood

Urine for Porphobilinogen*
Histopathological examination
Review/second opinion
PAS stain
Prussian Blue stain
Congo Red stain
Masson Trichrome stain
ZN stain for AFB
Reticulin stain
V VG stain
Stain
Frozen section
Cell block Histopathology
ER, PR, HER2
IHC
Cytology by cytospin for malignant cell
Fine Needle Aspiration Cytology (Procedure + Reporting)/li>
PAP smear for cytology
Arterial Blood Gas Analysis (ABG) with Lactate , Electrolytes (Na,K and Ionised Calcium)
Adenosine Deaminase (ADA)
Albumin (Quantitative)
Alkaline Phosphatase
ALT – Alanine transaminase (SGPT – Serum Glutamic Pyruvic Transaminase)
Ammonia
Amylase
AST – Aspartate aminotransferase (SGOT – Serum Glutamic Oxaloacetic Transaminase)
Bilirubin (Total, Direct & Indirect)
Blood Glucose (F/ PP/ Random/ OGCT)
Calcium
Calcium, ionised
Chlorides
Cholesterol (Total)
Cholinesterase (Pseudo)
CK – Creatine Kinase (CPK)
CK-MB
Creatinine
CRP (Quantitative)
CSF Chemical Examination
Fluid chemical Examination
Fluid for Amylase
Fluid for Lipase
Fluid for Cholesterol
Fluid For Triglycerides
Electrolytes
G6PD Quantitative
Glucose Tolerance Test (Full) (F, 1/2 hr. 1 hr and 1 1/2 hr samples) and Oral Glucose Challenge Test (OCGT: For GDM)
Glycated Hemoglobin (HbA1c)
HDL CHOLESTEROL
Ionic Calcium
Iron studies (Fe TIBC)
LDH-Lactate Dehydrogenase
Lipase level
Lipid profile (Cholesterol-total, Direct HDL, Triglycerides and Calculated LDL, VLDL,with ratios of Total cholesterol/HDL and LDL/HDL)
Liver function test (Bilirubin – total, direct and indirect, Total Proteins, Albumin, Calculated A: G ratio, Alkaline Phosphatase, SGOT, SGPT)
Magnesium
Microalbumin
Micro Proteins
Osmolality (Osmolarity)
Phosphorous
Potassium
Protein / Creatinine Ratio
Total Proteins
Sodium
Total Protein and Albumin
Triglycerides
Troponin-I (Quantitative)
Urea
Uric acid
Urine Amylase
VBG
FERRITIN
PROCALCITONIN
Gram stain
ZN/AFB stain
ZN/AFB stain – RNTCP
ZN/AFB stain – Urine
ZN/AFB stain- Slit Skin
ZN/AFB stain- Stool for Cryptosporidium
Albert stain
KOH mount
India Ink Preparation
Hanging drop Preparation
Giemsa stain
Culture and sensitivity – Urine
Culture and sensitivity – Pus
Culture and sensitivity- Sputum
Culture and sensitivity- BAL
Culture and sensitivity – High vaginal swab
Culture and sensitivity- Stool
Culture and sensitivity – Semen
Culture and sensitivity – ETT
Culture and sensitivity- Tissue
Culture and sensitivity- Corneal Scrapping
Culture and sensitivity – Others
Culture and sensitivity- BACTEC Body fluid – Adult
Culture and sensitivity- BACTEC Body fluid – Paediatric
Culture and sensitivity- BACTEC Blood – Adult
Culture and sensitivity – BACTEC Blood – Paediatric
Culture and sensitivity – BACTEC Bone marrow
Anaerobic Culture – Pus
Anaerobic Culture – Tissue
Anaerobic Culture – Body fluid
Anaerobic Culture – Cervical or Vaginal discharge
Fungal culture
AFB culture
AFB culture & 1st line drug sensitivity
AFB culture & 2nd line drug sensitivity
Water culture analysis, bacteriological
AFB Liquid Culture
AFB Stain/Fluorescence Microscopy
Colistin Sensitivity Testing
Gene Expert MTB/RIF Resistance
LINE PROBE ASSAY
Line Probe Assay with AFB Culture combo
Stool for Cryptosporidium/Isospora
COVID RTPCR
COVID RAPID ANTIGEN TEST
COVID ANTIBODY TEST
Report collection counter
For Enquiries or any information